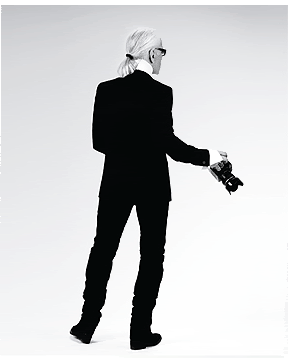 I've been reading Simon Doonan's tome, "Eccentric Glamour" which started out blasting my mind. He's friends with people who wear rouge on their cheeks like clowns, and I'm totally loving it.
Doonan brought to my attention the genius of Karl Lagerfeld. I'm not too familiar with him, aside from that he lost a lot of weight a few years back (which is what Doonan cited in the book; moreso it was in reference to Lagerfeld's statements regarding weight loss) and also his work with Chanel. I know he's buddies with my celebrity Best Friend, Mary Kate Olsen, and I guess that's pretty cool.
Anyhow, I checked out Lagerfeld's twitter and it's about the best thing on that site.
Witness:
"A respectable appearance is sufficient to make people more interested in your soul."
"I try not to be sentimental and obsessive about possessions. I love collecting, but I hate owning."
"Logos and branding are so important. In a big part of the world, people cannot read French or English--but are great in remembering signs."
"I only wear the latest thing. It's my job."
"Florals are for middle-aged women with weight problems."
And he wrote on New Years Day: "On this day each year, I soak the previous year's calendar in my mother's favorite perfume and then set it ablaze. Here's to a fresh start."